One Day Garage & Shop Coating
In just 24 hours, our certified crews can have your new garage floor ready for the toughest use.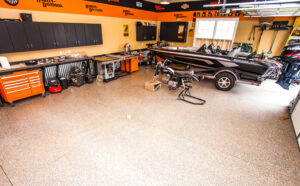 Your garage floor needs to endure heavy use and a lot of wear and tear, making it one area of your home where high-quality flooring is essential. A garage floor coating from Kodiak Concrete Coatings is guaranteed to hold up to even the toughest applications, ensuring that you'll get the most long-lasting service and value out of your investment. With industry-leading formulations available in customizable color and finish options, there's no better choice thanfor a garage floor coating that adds outstanding appeal and functionality to your home.
Choose from chip, metallic, quartz, and solid color systems to custom-design a space that complements your home's style.
Enhanced Safety: The unique orange-peel texture and anti-skid surface options built into our garage flooring systems provide added protection against slips and falls.
Extreme Durability: Resistant to chemicals, abrasions, and impact, your new flooring will have what it takes to hold up to the toughest applications.
Fast Installation: We know your time is valuable, so our certified installers can get your garage floor coating ready for use in just 24 hours.